Non-Fiction Book Club Selection for November 16th @ 2PM: The Agitators
Port Byron Library's Non-Fiction Book Club is reading The Doctors Blackwell by Janice P. Nimura for their next meeting on November 16th! Stop by the library for book discussion, refreshments, and to discuss the next selection.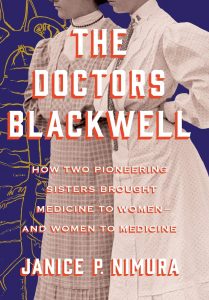 Elizabeth Blackwell believed from an early age that she was destined for a mission beyond the scope of "ordinary" womanhood. Though the world at first recoiled at the notion of a woman studying medicine, her intelligence and intensity ultimately won her the acceptance of the male medical establishment. In 1849, she became the first woman in America to receive an M.D. She was soon joined in her iconic achievement by her younger sister, Emily, who was actually the more brilliant physician.
Exploring the sisters' allies, enemies, and enduring partnership, Janice P. Nimura presents a story of trial and triumph. Together, the Blackwells founded the New York Infirmary for Indigent Women and Children, the first hospital staffed entirely by women. Both sisters were tenacious and visionary, but their convictions did not always align with the emergence of women's rights―or with each other. From Bristol, Paris, and Edinburgh to the rising cities of antebellum America, this richly researched new biography celebrates two complicated pioneers who exploded the limits of possibility for women in medicine. As Elizabeth herself predicted, "a hundred years hence, women will not be what they are now."