Port Byron Library's Non-Fiction Book Club will be reading Wedding of the Waters: The Erie Canal and the Making of a Great Nation by Peter L. Bernstein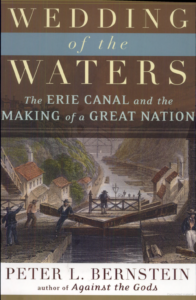 The history of the Erie Canal is a story of American ingenuity. A great project that Thomas Jefferson judged to be "little short of madness," and that others compared with going to the moon, soon turned into one of the most successful and influential public investments in American history.
In Wedding of the Waters, best-selling author Peter L. Bernstein recounts the canal's creation within the larger tableau of a youthful America in the first quarter-century of the 1800s. Leaders of the fledgling nation had quickly recognized that the Appalachian mountain range was a formidable obstacle to uniting the Atlantic states with the vast lands of the west. A pathway for commerce as well as travel was critical to the security and expansion of the Revolution's unprecedented achievement.
Bernstein examines the social ramifications, political squabbles, and economic risks and returns of this mammoth project. He goes on to demonstrate how the canal's creation helped bind the western settlers in the new lands to their fellow Americans in the original colonies, knitted the sinews of the American industrial revolution, and even influenced profound economic change in Europe.