Senior Movie December 13th @ 2PM: A Christmas Gift from Bob
For our Senior Movie on December 13th, we will be showing a Christmas Gift from Bob starring Luke Treadaway and Bob, as Bob the cat. Popcorn and water will be provided!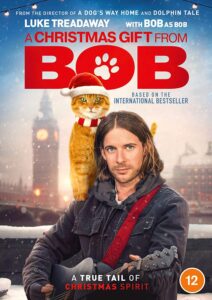 Based on the international best-selling books and the 'purrfect' Christmas sequel to the international hit film 'A Street Cat Named Bob' – follow James and his best friend, Bob on their new journey together.
From the day James Bowen (Luke Treadaway) rescued a street cat abandoned in the hallway of his sheltered accommodation, they began a friendship which has transformed both their lives and touched millions around the world.
In 'A Christmas Gift From Bob', James looks back at the last Christmas he and Bob spent scraping a living on the streets and how Bob helped him through one of the toughest times, providing strength, friendship and inspiration. Ultimately teaching each other about the true meaning of Christmas spirit along the way.